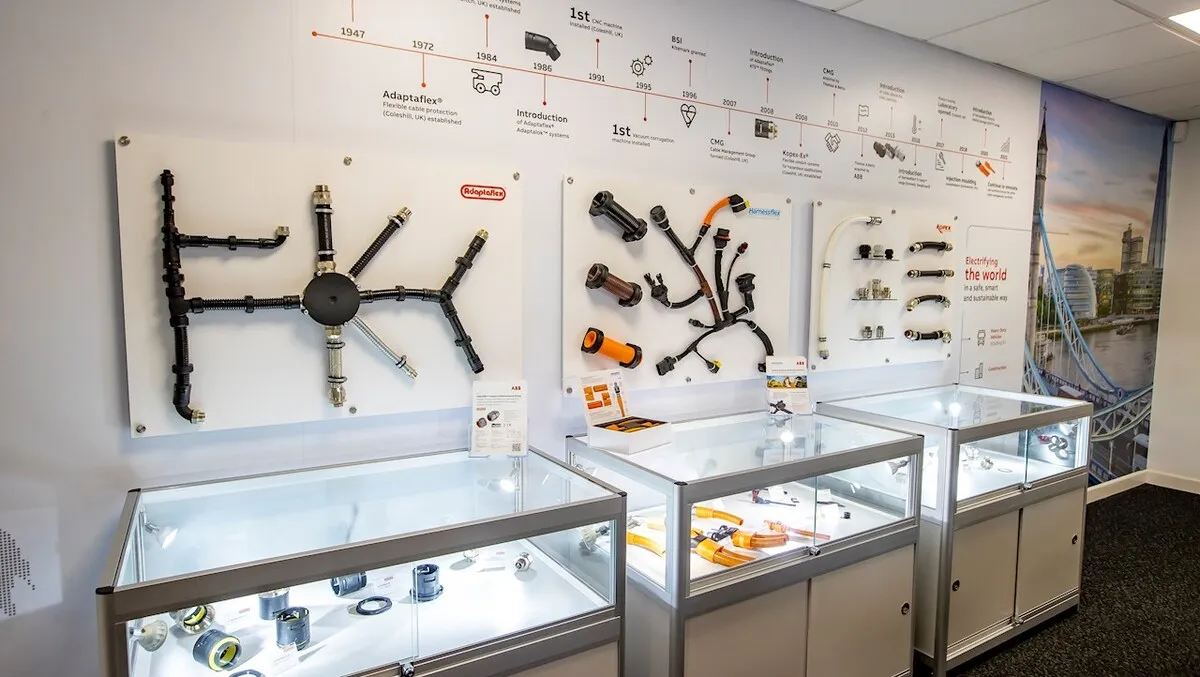 ABB opens state-of-the-art facility for cable solutions in Coleshill
Thu, 9th Nov 2023
By Sean Mitchell, Publisher
ABB, an international technology leader, has opened a new facility in Coleshill, UK, to cater to the increasing demand for cabling markets spanning heavy-duty vehicle, rail and infrastructure, commercial construction, maritime and data centres. This facility is equipped with an advanced vacuum corrugator, enhancing production capacity by 35% to meet the escalating needs for flexible cable protection solutions and specialist conduit systems.
The new complex, christened the "John Austin Showroom & Collaboration Centre", showcases ABB's contemporary conduit and cable management innovations. Named in honour of John Austin, an ABB employee who pioneered electrical conduit design and helped shape international industry standards, the showroom pays homage to his five decades of innovation.
The facility functions as a hub for customer collaboration, global electrification technology and a platform for planning across the entire product lifecycle, integrating ABB Installation Products' showroom, research and development and manufacturing units. ABB's Coleshill facility brings together research and development engineers, product training specialists, operations and customer services to collaborate on cable management and protection products for varied applications.
The dedicated space in the Coleshill facility includes product displays of custom solutions to support ideation and training, while promoting designs that vigorously address the evolving needs of sectors such as original equipment manufacturing (OEMs), e-mobility and transportation. Automation techniques like coiling systems and laser printing have been adopted in the facility helping remove hazardous waste from printing operations.
Andrea Castella, General Manager for Europe & AMA, ABB Installation Products Division, expressed, "From heavy-duty electric vehicles to electrification solutions for global transportation networks and data centres, many sectors we serve are experiencing significant change. Our new John Austin Centre allows us to work side-by-side with our customers and partners to develop solutions that span the entire product lifecycle and address current and future needs." Castella also highlighted how integrating capabilities under one roof optimises the development process, positions ABB to anticipate and respond to a dynamic market and the growing need for cable management and protection solutions.
Since its inception in 1902, ABB Installation Products has been granted over 1,800 patents globally, including products that have enhanced the connection, protection, safety, and reliability of electrical power distribution. The Coleshill team is now focusing on developing solutions meeting the most recent industry requirements, extensively tested and rated so as to perform in various applications. This facility boasts state-of-the-art lab and equipment to create prototypes and conduct comprehensive assessments, including simulating corrosive and demanding environments and other extreme conditions.
Location of the John Austin Showroom and Collaboration Centre is at the ABB Cable Management Products building in Coleshill. The establishment of this centre adds to recent investments to increase manufacturing capacity, drive innovation and sustainability and bring products closer to customers.
Building on its 125-year history of pioneering in electrification, ABB Installation Products pioneers solutions to connect and protect electrical systems that power businesses, cities, homes, and transportation worldwide.