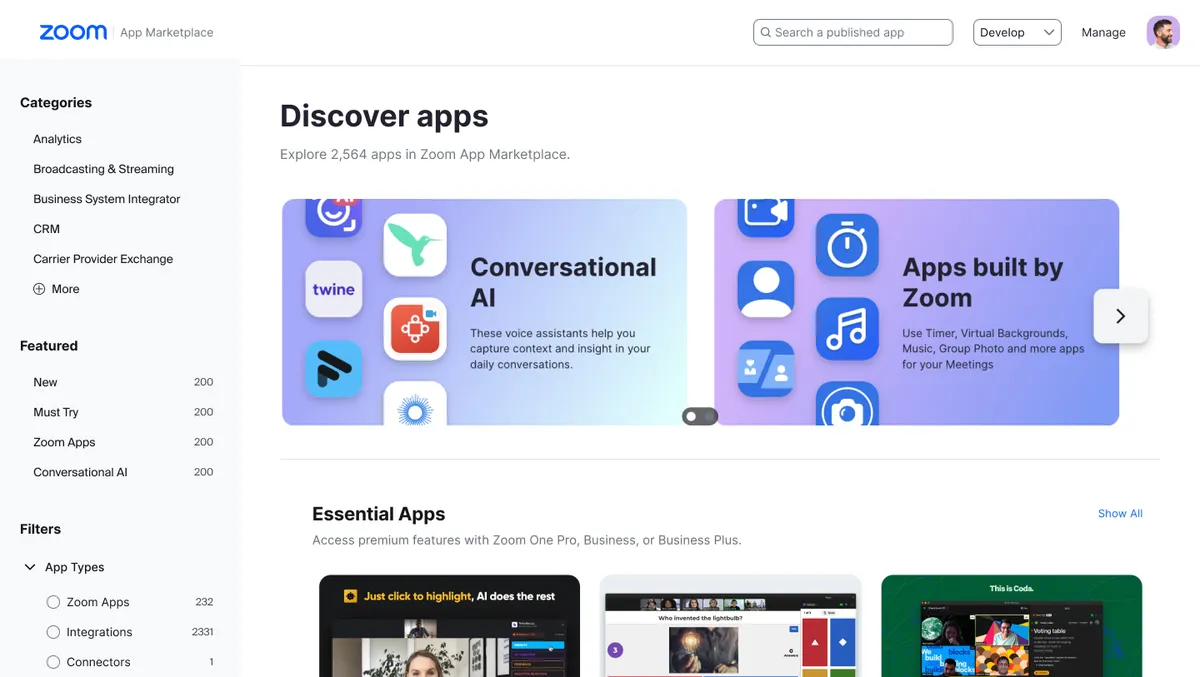 Zoom enhances it's ecosystem with updated open platform and app marketplace
Thu, 5th Oct 2023
By Sean Mitchell, Publisher
Leading digital collaboration platform, Zoom, has announced several significant enhancements to its open platform and App Marketplace. Designed to drive optimal business outcomes, these advancements ensure more seamless integration with Zoom for users and developers alike.
Zoom has long dedicated itself to building a platform as an open ecosystem, empowering users with the ability to choose how they connect, collaborate and reach their desired goals. Through partnerships, applications, and integrations, Zoom users are able to experience the full power of the platform, seamlessly blending Zoom capabilities into their existing solutions. Moreover, the addition of apps and data into the Zoom experience simplifies workflows and enhances productivity.
Brendan Ittelson, Chief Ecosystem Officer at Zoom, explains: "Zoom's open ecosystem helps ensure that our customers have the choice to use the features and the tools that they already have, know, and love. Equipping the global developer ecosystem with our tools, technology, and resources to build solutions for customer choice allows developers to create seamless integrations so our customers can enjoy a better work experience using the apps they prefer."
Zoom's commitment to user choice echoes in the accessibility it provides to its APIs and SDKs, encouraging developers to curate accessible apps across multiple Zoom products. "That's the Zoom difference," Ittelson continues, "Our framework provides guidance on how we surface your app of choice right within your Zoom interface, or we can embed Zoom in your app of choice. We also enable you to connect data from another app to Zoom or access Zoom data from your app, so you can trigger actions in either direction."
Zoom has also made a pivotal move to extend the capabilities of running third-party applications within its platform to the Zoom Contact Centre. Currently, Zoom Apps are operational in Zoom Meetings, Zoom Webinars, Zoom Team Chat, and Zoom Rooms. In the forthcoming months, these functionalities will extend to Zoom Phone, Whiteboard, and Zoom Mail and Calendar.
Updates to Zoom App Marketplace show a significant hike in pre-built apps and integrations, now tallying more than 2,500. Customers have a broader range of options suiting their workstyle and are empowered to deploy Admin Authorized Apps more effectively, streamlining the employee experience.
Founded in 2011, Zoom has become an instrumental platform offering solutions like team chat, phone, meetings, omnichannel cloud contact centre, smart recordings, whiteboard, and more in one offering. The California-based business is noteworthy for making connections easier, more immersive and dynamic, placing people at the centre of its technology to drive human innovation.